Just a day back, we posted about the Madrid's new plan to curb the media power of Catalan media due to its continuous coverage of secessionist elements and glorifying attempts for independence. Yesterday, the Spanish government clarified that any content broadcasted by the media in an attempt to support the rebellions will have to face severe and stern consequences by the government.
Today, the fears of the Spanish government have transformed to reality with the Catalan's parliamentary ruling which declared independence for the state of Catalonia. The members of the parliament have voted for an independent and sovereign state of Catalonia and this ruling will be implemented within hours as per the terms of the article.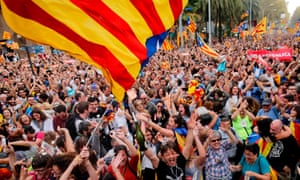 This parliamentary ruling has been passed not with unanimous acceptance as 70 members of the parliament voted in favor and 10 rejected the demand of independence with 2 people abstaining from voting. Though, this ruling and move by the Catalan parliamentary is unlikely to be recognized on the national level by either the government or other countries, but it shows a very evident line of conflict and division within the country and Catalonia's people aren't just demanding their individual rights in a free state but also the institutions of politicians and media are making such demands which are obnoxious and a direct threat to the authority of federal government in Madrid.
While the process of voting within the parliament took place, thousands of activists surrounded the building to show their support for the demand and portray that the people are ready to bolster the politicians of Catalonia to fight for an autonomous state from Spain.
Due to the extreme measure taken by the Catalonia, the Senate had to vote in favor of imposing Article 155 to overthrow any secessionist government in Catalonia made without the consent of the Spanish government through democratic means.
Mariano Rajoy, the Prime Minister of Span, despite having strong support from the opposition leaders, looks helpless in this matter as the global media is covering the story and any measure taken against the activists in Catalonia might look like an undemocratic measure which would lead to foreign pressure. Mariano Rajoy has blamed Carles Puigdemont, the Catalonia's leader, for the entire political chaos and disharmony prevailing in the country.
In response to all the political chaos happening in Catalonia against the Madrid's government, Mariano Rajoy tweeted,
I appeal for all Spaniards to stay calm. The rule of law will restore legality in Catalonia.